On August 25, 2018, the S.S. Gatsby docks in Portsmouth harbor.
Come aboard for the 6th Annual Gatsby on the Isles, a 1920s bash on the high seas, featuring live music by the Wolverine Jazz Band, lawn games, and a picnic on the Isles of Shoals. Join us for just the day or spend the night on the island for an evening of dancing at the historic hotel. It's a summer jaunt guaranteed to be the bee's knees. Tickets sell out every year well in advance of the event. Be sure to buy your tickets early so you don't get left ashore!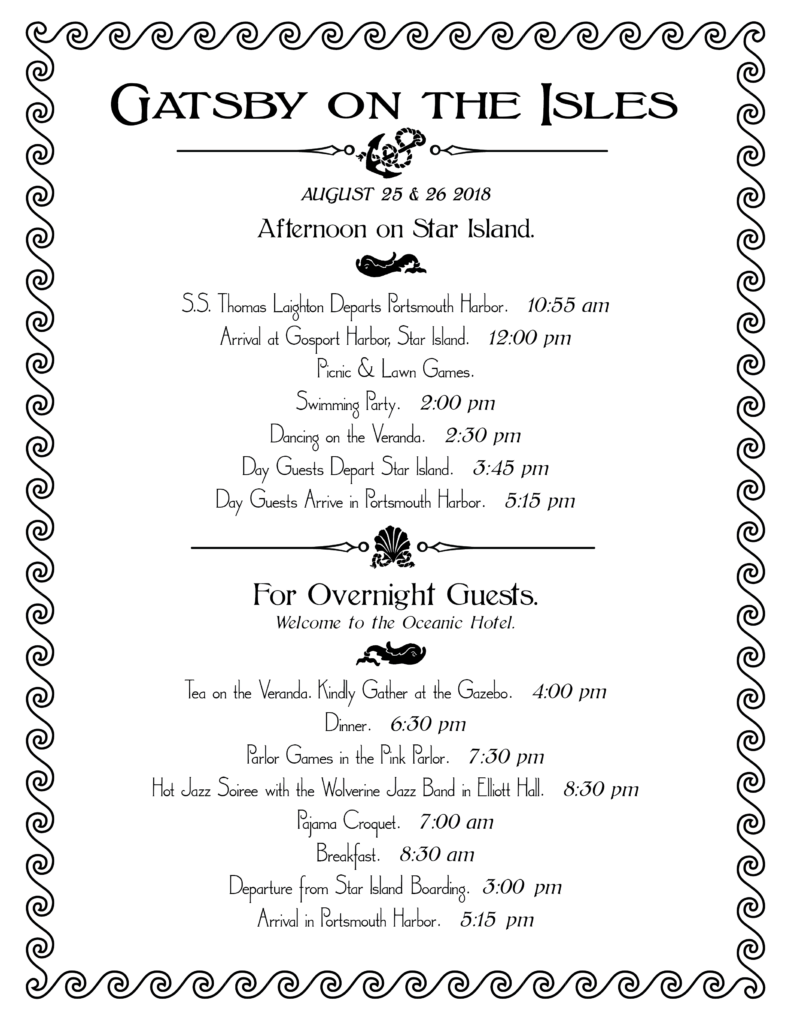 DAY TRIP TICKETS.
TICKETS NOW AVAILABLE! Visit the island for a seaside Jazz Age excursion Saturday, 8/25. Steamship fare, island visit, musical entertainment, lawn games, and light refreshments are included in ticket price. Guests are encouraged to bring a picnic lunch, though sandwiches are available for purchase on the island.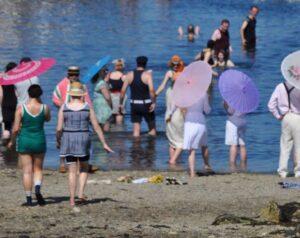 Day Trip Ticket Rates
Passenger — $55
Child (5 to 12 years old)  — $38
Infants (ages 4 and younger)  — Free, but require tickets for the passenger list.
OVERNIGHT JAZZ AGE WEEKEND. 
LIMITED TICKETS AVAILABLE. Saturday 8/25 and Sunday 8/26. Stay one night or two at the historic hotel on Star Island. Join us for the Saturday afternoon island party and then stay Saturday night at the hotel for a vintage weekend featuring a hot jazz soiree and more. If you'd like to spend more time on Star to explore or relax, register to stay Sunday night as well for a second day on the island.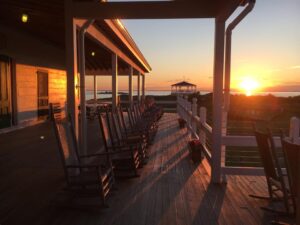 Saturday Night
$265 shared room
$335 single room
Saturday & Sunday Nights
$425 shared room
$535 single room
Steamship fare, rooms, meals, and evening entertainments included. Note: Prices are per person.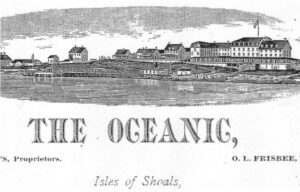 Guests will be pleased to know accommodations at the Oceanic Hotel boast the latest
amenities…for the 1870s (and we like it that way). Learn more about our charming time-warp hotel and island life here.
Also! The Star Island Corporation is a nonprofit and offers financial grants if attending a conference like Gatsby on the Isles seems out of reach.
NOTICE TO TICKET HOLDERS
Your participation in Gatsby on the Isles indicates your affirmation of the terms and acceptance of risks described in the event waiver. Please review the waiver here. If you do not agree to the terms therein you will not participate in Gatsby on the Isles. You can review the waiver by clicking here.
INQUIRIES
All questions and requests regarding hotel accommodations should be directed to Star Island by emailing the registrar, Mike Bray, or telephoning the Portsmouth office at (603) 430-6272. With event-related questions, please email the event host, Adam Irish. But first, learn more about the particulars of the excursion below!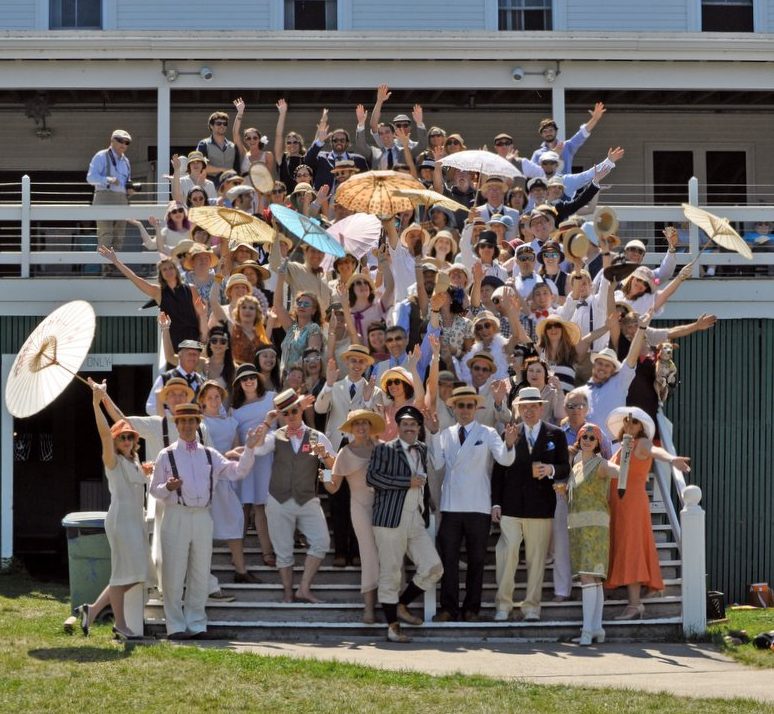 The Itinerary.
The exact schedule may change as the event approaches.
Our party will gather at 10:00 am on Saturday, August 25 at 315 Market Street in Portsmouth (the Isles of Shoals Steamship Company). The ship boards at 10:25. We'll arrive at Star Island at noon and have the rest of the day to carouse and explore the Victorian hotel and island. The day includes a 1920s jazz band, refreshments, lawn games, and a 1920s-style beach party. Day trippers board to depart Star at 3:30 pm, arriving back in Portsmouth by 5:15 pm. Guests may book advance reservations at the hotel to spend the night for an evening of dining, dancing and delightful company. Overnight guests will depart for the mainland on Sunday August 26 at 3:00 pm and arriving at 4:45 pm. All ages are welcome. See last year's schedule here.
Music by the Wolverine Jazz Band, a copacetic seven-piece gang led by Mr. John Clark on clarinet. Click here to hear them perform. No bushwa, these fellows are the berries. Hire them.
What to Wear.
Sheiks and shebas, get up in your glad rags like it's 1928. Ladies: Doll up in your favorite summer flapper dress and cloche hat. Gents: Wear your best seersucker or linen, a sharp tie and your snappiest straw hat. If you like, bring a change of formal evening clothes for the hot jazz soiree that evening. It's a fun and casual weekend—just in another time—so dress your vintage best, but don't let lack of picture-perfect duds prevent you from joining us!
What to Bring.
Bring your picnic lunch Saturday afternoon and your favorite vintage accoutrements. Since Gatsby guests each year bring a smorgasbord of picnic fare, we will have a potluck luncheon buffet this year for those who wish to share their picnic delicacies. Dust off your vintage picnic, croquet, and bocce sets, antique beach chairs and umbrellas, and musical instruments (for those wishing to jazz up the weekend). Each year, we also have our vintage bathing party on the Gosport Harbor beach – kudos if you bring your period wool or reproduction swim suit. Also: Please note that the Thomas Laighton has limited space, so large items may not be possible to bring aboard.
Candlestick Telephones & Kodaks Only, Please.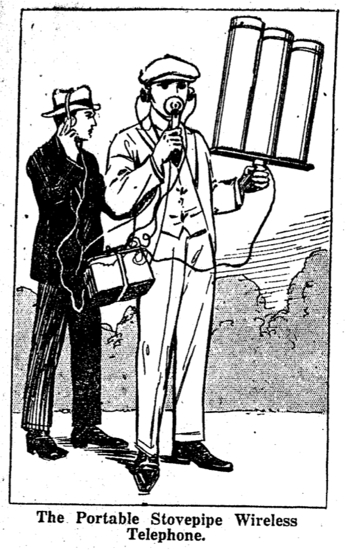 One of the most amazing things about choosing to step back in time is that you may find yourself more in the present. We encourage you to adopt a vintage technological mindset during Gatsby on the Isles and we ask that you not use your smartphones to text, check social media, or take photographs during the event. 
Film cameras, especially vintage cameras, are welcome, but please leave digital selfies and Facebook profile pics in the past on the mainland. We will have a roaming professional photographer on the island if you would like to request photographs free of charge, which will be available on social media and on the website after the event.
Of course, if you need to use your cell phone, you are welcome to do so, but we ask that out of respect for other guests you use it out of sight in your room or elsewhere in the hotel. That said, we dare you to turn off your smartphone for a few hours…or, if you're especially brave, a whole weekend! You might find the weekend more enjoyable and memorable without it.
In August 1928 on Star Island, your status update is here and now, sharing this remote and beautiful place with good friends in the timeless, ephemeral moment.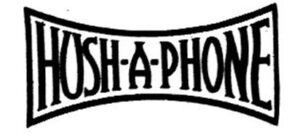 Questions?
Regarding steamship passage, departure and arrival times, parking, etc., please contact the Isles of Shoals Steamship Co. at (800) 441-4620.
All questions and requests regarding hotel accommodations should be directed to Star Island by emailing the registrar, Mike Bray, or telephoning the Portsmouth office at (603) 430-6272.
With event-related questions, please email the event host, Adam Irish.
Follow the Gatsby on the Isles Facebook page for updates.
Sponsored by Old as Adam Antiques & Vintage Haberdashery, 33 Ceres Street, Portsmouth, NH.
Parking Information
Limited day visit parking will be available at the Isles of Shoals Steamship Co. lot, but given passenger volume, please consider other locations in Portsmouth to park. I have been informed overnight guests should not park in the Steamship Co. lot (I apologize for the inconvenience, but could not negotiate otherwise). The Connect Community Church parking lot (200 Chase Drive, on your left coming off of 95) is a ten minute walk from the dock. The downtown garage and other lots are also available, but parking in Portsmouth is notoriously tricky, so do plan ahead. For all parking questions and parking availability at the Steamship Co. lot, please call (800) 441-4620. Here's a map of parking downtown: http://www.parkportsmouth.com/cityparkingmaplargefinalflyersml.pdf
This Year's Schedule of Events.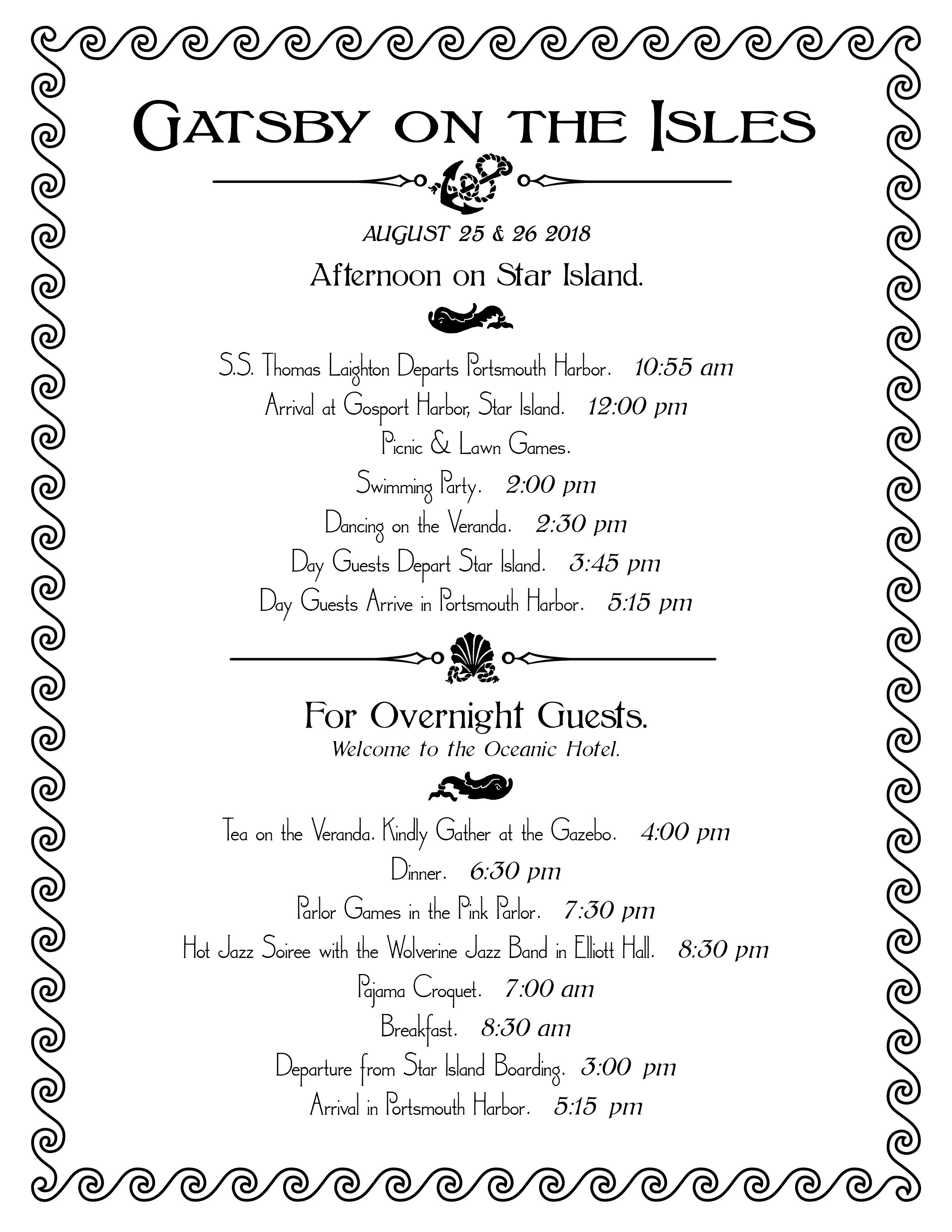 Gatsby Snapshot Album.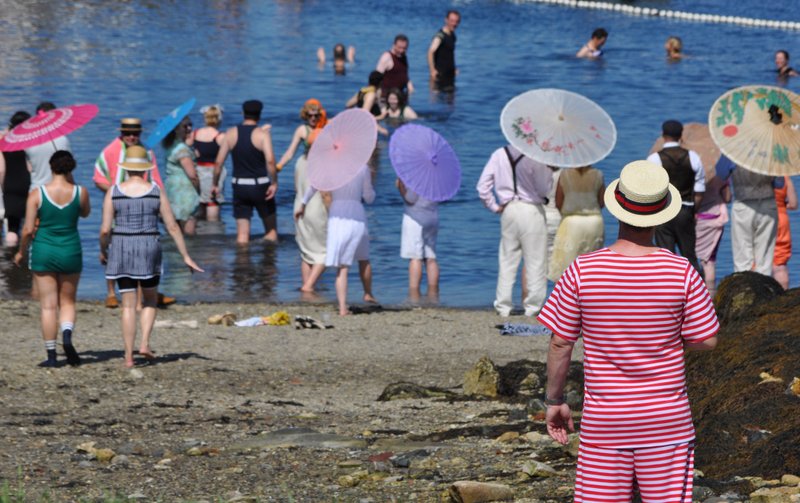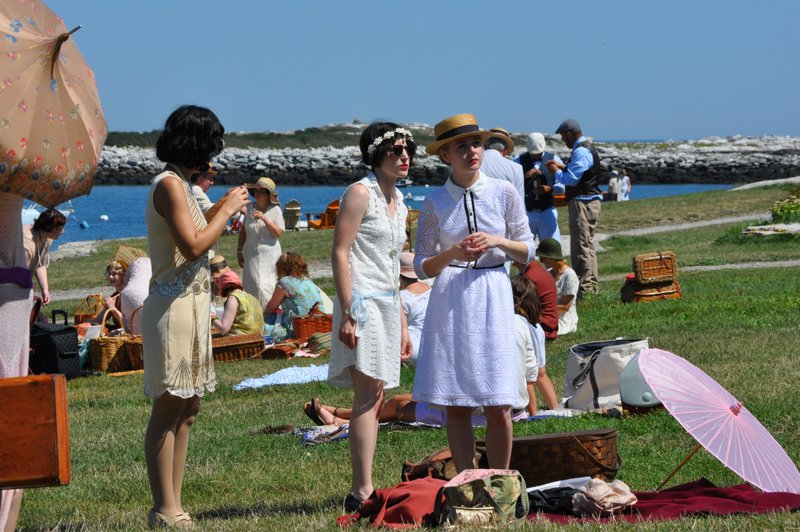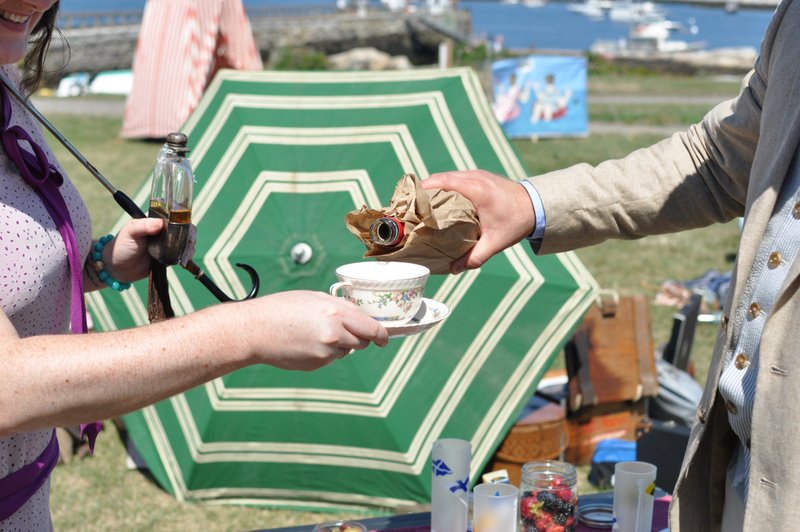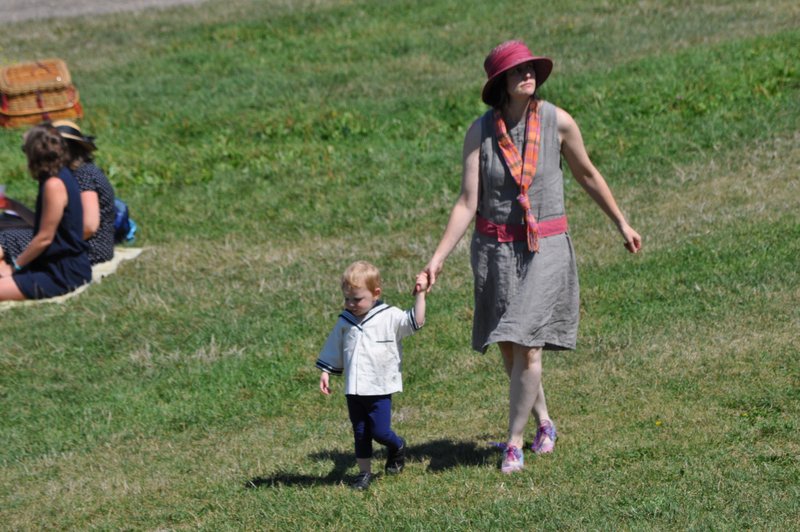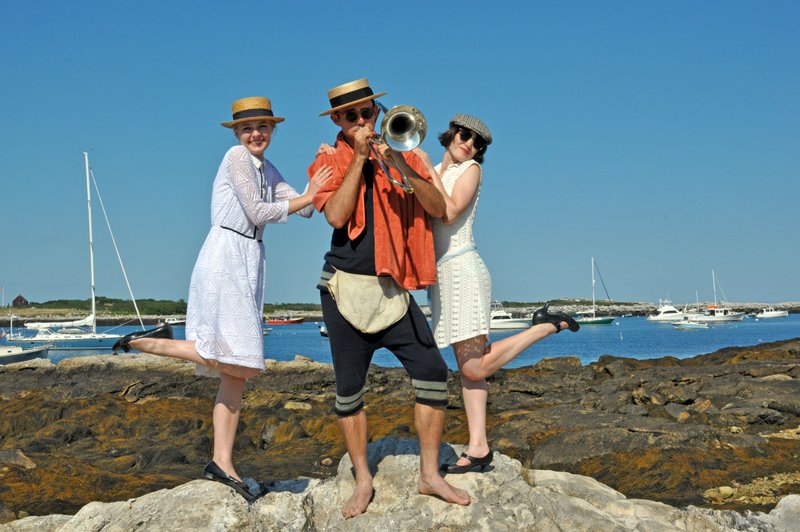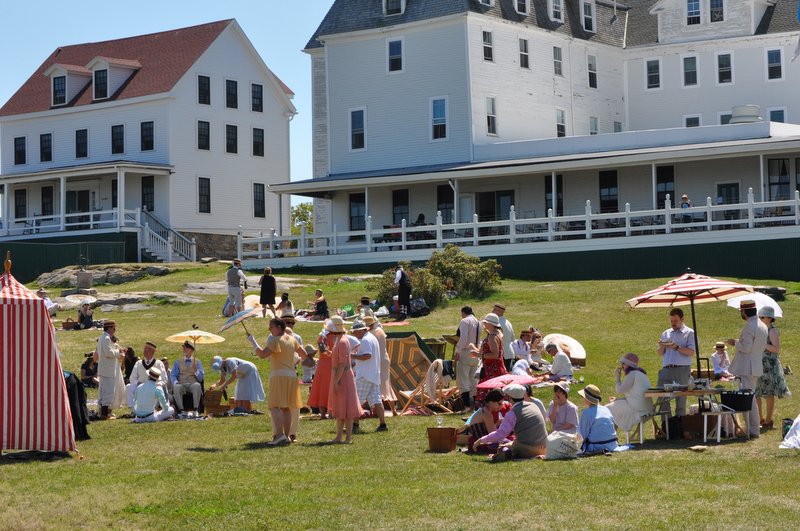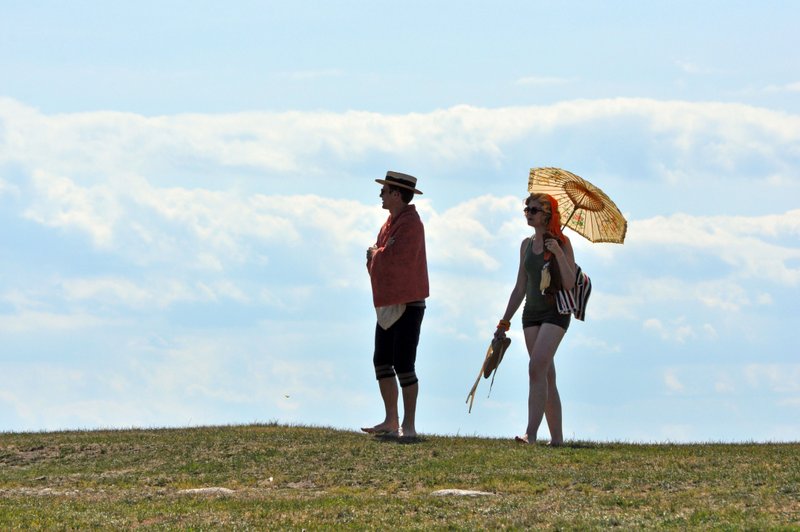 Gatsby 2016 Photo Credit: Jennifer Moore @recovergirl & https://recovergirl.wordpress.com