Discoveries at Old as Adam, Summer '17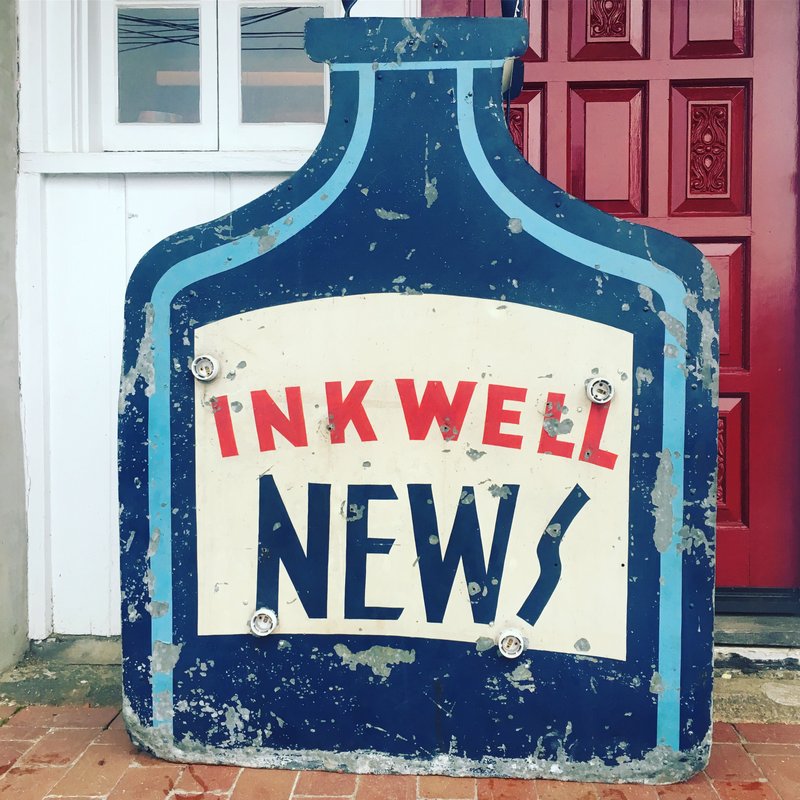 Dear Friend of Old as Adam,
Summer's on in Portsmouth and Old as Adam is stocked with remarkable things gathered around New England. It's peak season for picking and new things are coming in each day, so every visit to the shop yields new finds. Old as Adam also has big news for this summer: I'll be at the New Hampshire Antiques Show on August 10-12 and will host the 5th Annual Gatsby on the Isles event on August 26 (which promises to be the largest yet). Read on for details, images and more.
New acquisitions in antiques (see images below) include a 1930s "Inkwell News" figural neon sign (over four feet tall), fun folk art such as a 1920s hand-carved playing card tray, antique games including a 1897 "Klondike" Alaska exploration game and a 1919 WWI naval battle game, nautical antiques, tin and cast iron toys, antique bottles, a variety of photography including rare local images, an exceptional oil on canvas portrait of a Native American c. 1920, Indian-made antiques including quill boxes and birch bark canoes, a collection of 1930s color blindness charts (colorful found art), a fine charcoal portrait c. 1900, Victorian and early 20th century advertising, exceptional Florentine leather boxes and accessories, several fine chess sets and a sculptural stepped vintage chess board, collegiate memorabilia, and much more.
In the Menswear Department, new duds include summer blazers including seersucker, linen and madras, straw hats including panamas and boaters c. 1900-'60s, a variety of cotton shirts from the 1950s-'60s, a couple of incredible bespoke white cotton suits c. 1910s-'20s, neckties featuring narrow 1960s madras and cotton summer ties, fun 1940s four in hands and bow ties from the 1920s-'60s, a rare 1940s belted horsehide motorcycle jacket, a variety of vests (including a 1950s silk waistcoat with shotgun shell buttons), WWII militaria, 1920s bathing suits, vintage eyeglasses of all kinds, many fun cuff links and tie bars, 1920s-'30s travel accessories including miniature cocktail shakers and new old stock flasks (still boxed!) and much, much more.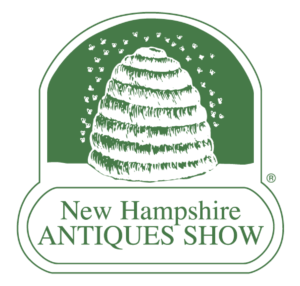 THE NEW HAMPSHIRE ANTIQUES SHOW
I'm happy to announce that I will be an exhibitor at the 60th Annual New Hampshire Antiques Show in Manchester, N.H. on August 10-12. I was honored to be selected in January, and since then have been gathering and saving some of the best pieces of Americana I've ever had for the show.
The three-day New Hampshire show is among the best antique shows of its kind in the country, and you'll find remarkable "fresh-to-the-market" American antiques across all categories represented by the sixty-seven participating dealers. It's the highlight of the year for many collectors and antiques dealers, and well worth a visit. I have a limited number of free tickets to the show available. Stop by the Portsmouth store to pick up yours with my compliments. Learn more about the New Hampshire Antiques Show by clicking here. 
THE 5th ANNUAL GATSBY ON THE ISLES

On August 26 '17, the S.S. Gatsby docks in Portsmouth harbor. Come aboard for the 5th Annual Gatsby on the Isles, a 1920s bash on the high seas, featuring live music by the Wolverine Jazz Band, lawn games, and a picnic on the Isles of Shoals. Join us for just the day or spend the night on the island for an evening of dancing at the historic hotel. It's a summer jaunt guaranteed to be the bee's knees. Tickets are selling fast and the event will be sold out well in advance so buy yours today. For tickets, schedule, photographs and more, click here.
You can also find me at Brimfield next week on May's field on Thursday, July 13. I have some great new things which I'll be bringing to Brim so be sure to visit. Find me at at space 537 (Old as Adam has a corner space a couple rows past the concessions building, left from the main aisle toward the tree line).
See something you like but can't make it into the store? Old as Adam ships worldwide. And as always, if you're visiting Portsmouth and can't make it during regular store hours on the weekends, feel free to email or call to see if I'm in the shop or to schedule a visit.
Looking for something in particular? Click here to send me a note and I'll be on the lookout.
I look forward to seeing you in Portsmouth or at Brimfield soon.
I remain, your loyal antiquarian haberdasher,
Adam
P.S.: Don't forget to follow Old as Adam on the Face Book and receive our Instagrams!