Discoveries at Old as Adam, June '16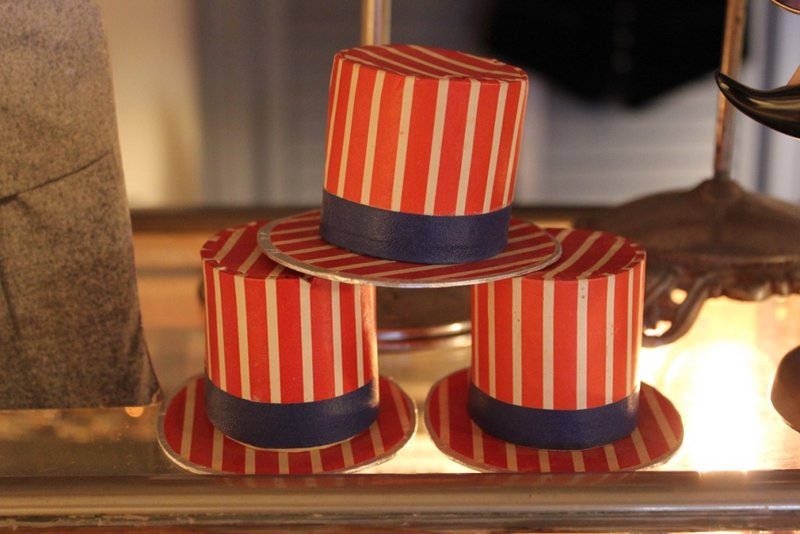 Dear Friend of Old as Adam,
It's hard to believe, but the Fourth of July is already just around the corner. Visit the Portsmouth, New Hampshire store this holiday weekend to see the many new finds I've gathered as summer gets underway in New England. Read on to learn about the latest acquisitions and upcoming events.
New acquisitions include an 1880s butcher's trade sign, a Victorian locksmith's trade sign, an antique silk Masonic apron and other fraternal objects, original hand-painted tennis-themed 1940s necktie designs, a 19th century architect's model, a late 19th century copper horse weathervane, several antique spyglasses, a handmade guillotine cigar cutter, an exceptional hourglass, an 1890s mechanical horse racing game, vintage cocktail paraphernalia, several folk art carvings, a 1930s life ring from the yacht "Memories" of Boston, sculptural nautical fragments brought up from the sea floor, antique books, several clocks, exceptional photography, and much, much more.
In the Menswear Department, the summer collection is on the racks and going fast, with new finds including 1960s madras sport jackets, linen jackets from the 1930s-1950s, new old stock cotton 1950s shirts, cotton summer bow and straight ties, several fancy vests c. 1890s, 1920s collarless cotton shirts, a few great cowichan sweaters featuring nautical and golf designs, summer hats including a variety of 1920s-50s straw boaters, accessories including fun cuff links, tie bars and money clips, several choice 19th century straight razors, a collection of pocket compasses, 1910s-1960s vintage men's eyeglasses frames, and much more.
Find Old as Adam at the Brimfield, MA antiques markets this July at Heart of the Mart on Wednesday, July 13. I will be selling antiques in the "E Tent" at the left corner at the far back of the field. My booth will be stocked with many new finds not seen here.
Also, tickets are now on sale for the annual Gatsby on the Isles island jazz age party off of the New Hampshire seacoast. We'll have a live jazz band, lawn games, dancing, and of course, our annual wool bathing suit beach party. Learn more and purchase day trip or overnight tickets by clicking here.
As always, if you're visiting Portsmouth and can't make it during regular store hours on the weekends, feel free to email or call to see if I'm in the shop or to schedule a visit.
Looking for something in particular? Click here to send me a note and I'll be on the lookout.
I remain, your loyal antiquarian haberdasher,
Adam