Discoveries at Old as Adam, December '16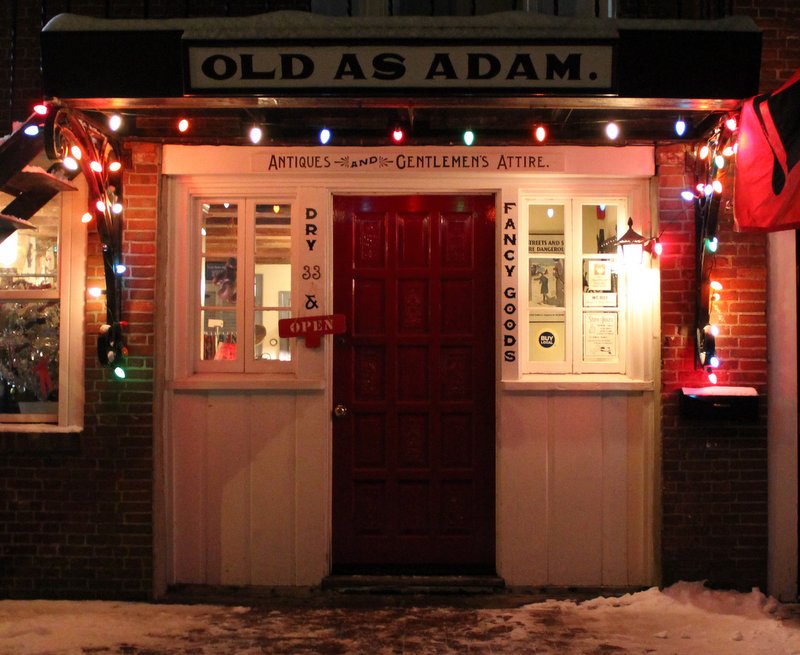 Dear Friend of Old as Adam,
Snow is flying on Ceres Street this wintry day and so is the time before the holidays. Visit Old as Adam to see the December collection of festive and fun gifts for everyone on your list.
New acquisitions in antiques include a rare framed 1903 bird's eye view map of Lake Winnipesaukee, other New Hampshire maps and books including a fine leatherbound 1860 volume on the White Mountains, architectural salvage pieces, fun vintage tin and wooden toys, a 1930s hand painted "Drive in Meals Served" diner sign, antique 18th century keys and locks, cigar and smoking accessories, a variety of handsomely bound antique books, games including a choice chess set, accessories for the bar including a fine horn and sterling silver bottle opener, rare early ephemera from the golden age of steamship travel, several exceptional nickel plated store mirrors c. 1900, a collection of turn of the century Christmas postcards, and much more.
In the Menswear Department, new items include festive vests, blazers, and neckwear for the holiday, leather goods such as billfolds and valises c. 1890s-'20s, early 20th century hats including bowlers and toppers, fine walking sticks, a collection of new old stock watch fobs c. 1910-'20s, a variety of ties c. 1930s-'60s, a good selection of outerwear to bundle up in, several Ivy Style three-piece suits c. 1960, a great 1940s ski sweater with patches, Pendleton and other wool shirts, a 1940s Harris Tweed kilt jacket and vest, many dapper cuff links and tie bars, and much more.
See something you like but can't make it into the store? Old as Adam ships goods in the U.S. and beyond. And as always, if you're visiting Portsmouth and can't make it during regular store hours on the weekends, feel free to email or call to see if I'm in the shop or to schedule a visit.
Looking for something in particular? Click here to send me a note and I'll be on the lookout. I have much more in stock tucked away so it's always worth asking for that obscure item on your holidy gift list.
Wishing you a very Merry Christmas and a Happy New Year, I remain, your loyal antiquarian haberdasher,