Discoveries at Old as Adam, April '16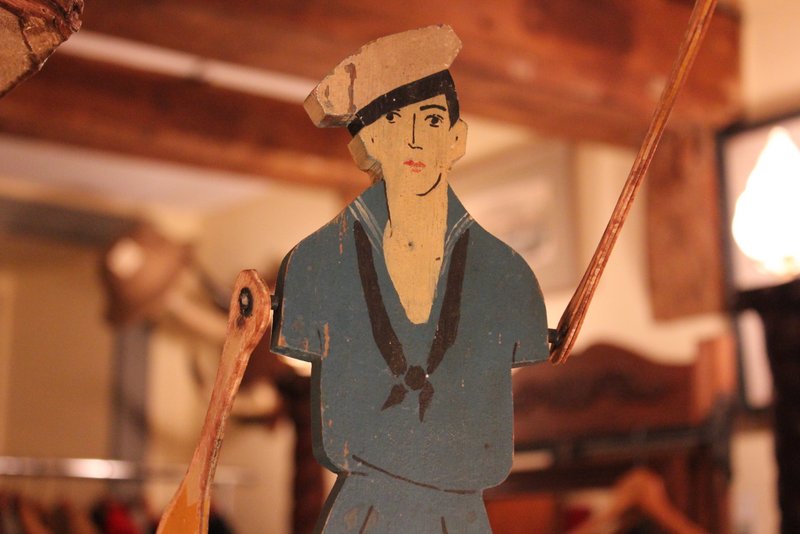 Dear Friend of Old as Adam,
After collecting goods all winter long, it's finally spring in Portsmouth and Old as Adam comes out of hibernation with a new batch of remarkable finds, quirky antiques and dapper duds. Take a stroll past the tugboats and see the spring collection.
New acquisitions include a 19th century Ottoman porcelain hookah, a rare original late 19th century map of Central Park over six feet long, a folk art sailor whirligig and other nautical finds, several handsome cast iron and wire book stands, a large 1920s carnival coin toss table top, hand-painted wooden signs (including the 1920s cottage name "Camp E-Ta-Lot"), a perfect 1920s nickel plated shaving mirror, a 19th century bust of Charles Dickens among others, a large selection of turn of the century European travel guides with beautiful maps, a collection of antique keys, antique pen and pocket knives, framed full color Victorian house plans, a variety of antique toys, 1930s and '40s cocktail paraphernalia (including a rare watering can shaker), an exceptional Deco-inspired steamer trunk, and much more.
In the Menswear Department, the store clothing racks have entirely fresh merchandise, with new finds including a variety of vests c. 1910s-1950s, many exceptional neckties and bow ties with names including Liberty of London and Sulka, cotton and wool 1950s and '60s shirts, several Norfolk jackets, an excellent selection of Harris Tweeds c. 1940s-'60s, fine silk ascots, a Saks sporting jacket c. 1970 with exceptional details, 1950s Navy pea coats, many unusual cuff links, several wrist and pocket watches, vintage straight and safety razors, a few pairs of fine 1920s wire rim eyeglasses, and more.
As always, if you're visiting Portsmouth and can't make it during regular store hours on the weekends, feel free to email or call to see if I'm in the shop or to schedule a visit.
Looking for something in particular? Click here to send me a note and I'll be on the lookout.
Keep your eyes peeled for updates on Old as Adam at Brimfield and the Sturbridge Vintage Clothing & Textile Show in May!
I remain, your loyal antiquarian haberdasher,
AdamP.S.: Don't forget to follow Old as Adam on the Face-Book and receive our Instagrams!