Portsmouth Seersucker Ride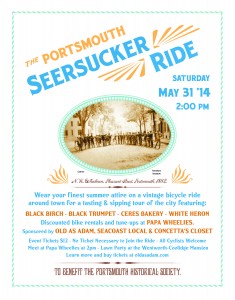 At 2:00pm on Saturday, May 31, join us on a leisurely vintage bicycle ride around Portsmouth in your finest summer sporting attire to benefit the Portsmouth Historical Society. After touring the town, the ride will take us to the Wentworth Coolidge Mansion for a lawn party featuring great local eats and drinks, croquet and a jazz band. Wear your summer seersucker, linen or madras plaid and pedal your prized classic bicycle for a delightful vintage afternoon bicycling round the New Hampshire seacoast.
Tickets are $12 and include a nifty pin, complimentary bites and sips from our participating local businesses, including Black Birch, Black Trumpet, Ceres Bakery and White Heron, as well as 45% off bike rentals and free safety check tune-ups at Papa Wheelies. Music by Dan Gabel & the Abletones swing combo (http://www.theabletones.com/). Prizes for best dressed and best bicycle presented by Old as Adam, Concetta's Closet and Papa Wheelies. All proceeds benefit the Portsmouth Historical Society. Tickets may be purchased in person at Old as Adam (33 Ceres Street), online (http://portsmouthseersuckerride.brownpapertickets.com/) or in cash the day of the event. Find the ride on Facebook here.
All ages are welcome on the ride. Don't worry if you don't have the "proper" attire or a vintage bike – it's easy to put together a snappy outfit and pedal-powered vehicles of all stripes are welcome.
Where to Meet: At 2:00 pm, bring your bikes to Papa Wheelies (653 Islington Street), where tickets can be had. Parking is available in the Hannaford plaza up the street, but riders may prefer to park downtown closer to where we'll be concluding our excursion. After teatime at White Heron, we'll embark on the ride.
So don your straw hat, polish up the Raleigh, and ride with us Saturday, May 31 at 2:00pm on the Portsmouth Seersucker Ride!
Organized by Old as Adam & Seacoast Local
Sponsored by Papa Wheelies, Concetta's Closet, Black Birch, Black Trumpet, Ceres Bakery, White Heron, and many more
The Swell Society: A 20th Century Social Club
Join at the link below to learn of more vintage events on the Seacoast:
https://www.facebook.com/groups/swellsociety/