The Old as Adam Philosophy
Old as Adam strives to inspire wonder and delight in our material past. I look for the extraordinary, the odd, the underappreciated, the absurd, the spooky. I enjoy finding beauty and meaning in discarded objects and devising ways of repurposing them.
However, my aims are more than to collect beautiful and bizarre stuff. I search for things that make us question the dictates of the present. An old object's purpose, quality, aesthetics, and the lost way of life and perspective it embodies can teach as much about the past as it can about the present. Holding (or in fact wearing) something belonging to another time connects us to history more than any history book. Repurposing that object for the present is an act of rebellion against a disposable, consumer-driven society that in its dogged pursuit of progress often fails to see what is left behind. One who appreciates old good things reaps the fruits of such ignorance.
But it's ok to love old stuff simply because. I certainly do. After all, nostalgia is as Old as Adam.
Finally, I want everyone who appreciates the material past and classic clothing to be able to afford to shop at Old as Adam. If you fall in love with something but the price is truly out of reach, I will do my best to make it yours. I like for good things to find good homes.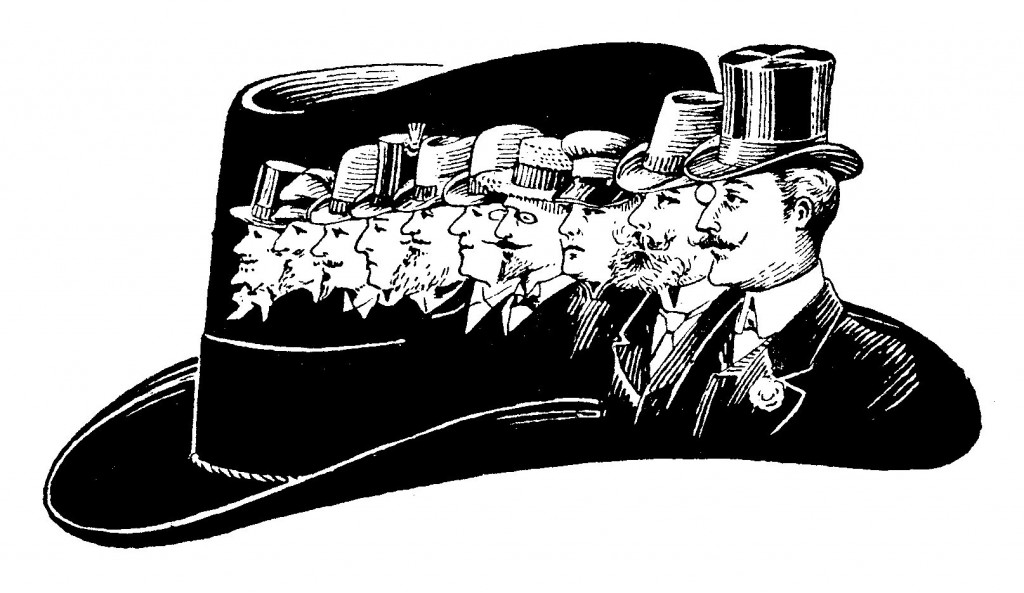 A Vintage Haberdasher's Call to Arms
In an age where going about in pajamas and underwear in public is somehow acceptable and business casual can mean jeans and a t-shirt, Old as Adam stands with the dapper revolutionaries who have said enough is enough and learned to tie a bow tie. Old as Adam seeks to restore a gentleman's pride in his sartorial self and resurrect a modicum of civic standards for men's attire. Dressing well is not only a sign of self-confidence, but also a sign of respect to those around you. Snappy dressers add color and delight to everyday life. They dignify and enliven the public realm.
I'm not saying we need to bring back starched collars and morning coats. Nor does dressing well mean you need to wear a suit and tie everyday. The other day I was wearing jeans, a plaid wool shirt, a cardigan, and my beater tweed jacket, and somebody kindly called me "dapper." Dressing well requires showing care in your appearance, perhaps acknowledging classic style, but not necessarily literally reproducing it. Heck, just tuck in your shirt these days and someone will call you dapper.
In this sense, you don't need to look like you're in 1940 when you wear vintage clothes (although that's ok in my book, too). It's liberating to reach back decades into fashion history to claim elements of period styles and remix them with modern looks. But when you buy vintage, you buy unique. If you pick up a tie at Banana Republic and purchase another from me, one of them you won't find your coworker wearing.
Vintage also makes getting dressed an enjoyable pursuit instead of a chore. Many men hate wearing neckwear and have told me with relief that they haven't worn a tie in a decade. This saddens me, because ties can at once makes a fellow's attire distinctive and engaging in both formal and casual settings. An older fellow walked into the store last week and said, "Thank God, somebody still sells fun ties." I sell fun ties because fun ties haven't been made in decades. Adding vintage clothing to your wardrobe makes it a pleasure to dress well and others notice, as you'll see from the compliments you receive.
In conclusion: stand up to the slobbification of America, wear a tie, and buy vintage!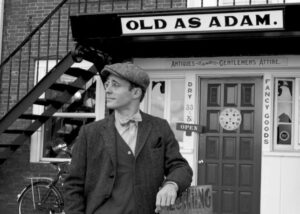 About the Owner
Adam Irish
Proprietor, Old as Adam
I've had a passion for the material past all of my life and have collected and dealt in antiques for over twenty years (selling my first piece when I was eight). I attended Middlebury College where I studied history and specialized in historical material culture (my senior work was a treatise on 1940s and 50s bold-look neckties). After considering a career in law and working in the field for several years, I found my favorite time of the week was attending previews at the auction house down the block. In 2011, I decided to pursue my lifelong passion and founded Old as Adam. I opened the Portsmouth store in September 2012. An unrepentant collector, I have varied tastes but specifically look for Aesthetic Movement design, antique games, zany folk art, and unusual vintage neckwear. I live and work in Portsmouth, New Hampshire.